Finishing off our recap of the 67th season is the Summer Concert Series! Circle Theatre's Summer Concert Series is LIVE music in an up close and personal setting featuring West Michigan's best vocalists and musicians on select Monday evenings throughout the summer.
2019 was an extra special year for our Concert Series because it celebrated 10 years! Our Summer Concert Series debuted way back in 2010 with "Circle's Stars of Tomorrow" and "Men of Motown." We made sure to celebrate with an awesome lineup in 2019!
The 10th Anniversary Summer Concert Series kicked off with Run the World: 80 Years of Girl Groups. This concert featured the music of a long history of iconic girl groups, with everyone from The Andrews Sisters to the Spice Girls. We delved into music from the 1930s and modern groups we love. These powerful women definitely brought the house down, under the direction of the wonderful Brandon Harris in his Circle directorial debut, along with Band Leader Deb Perry and her all-female band! The fun stretched beyond the theatre for these women at their additional performance at the opening ceremony for Festival of the Arts.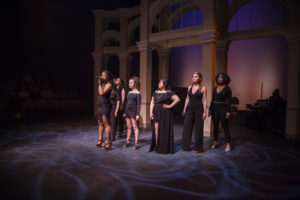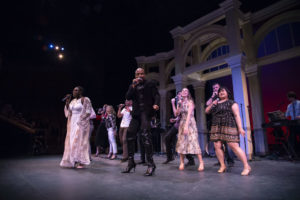 Next up in the series was 21st Century Broadway: Modern Musicals. This concert paid tribute to the incredible past two decades we've had in musical theatre with hits from the year 2001 through the present. Audiences got to hear songs from their favorite shows like Hamilton, Waitress, The Book of Mormon, and more! Circle veteran Kathy Gibson, Music Director Josh Keller, and the whole cast pleased theatre fans and music fans alike with this wonderful concert.
We then threw it back to the late '90s with Edge of the Millennium: Top Hits of 1999! This concert covered a wide variety of genres, from boy bands to country jams and beyond. People heard songs from all their favorite artists including the Backstreet Boys, Britney Spears, Shania Twain, and more. Director Scott Patrick Bell and his whole crew certainly transported audiences back to the turn of the century with this evening of Billboard hits.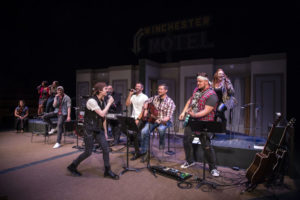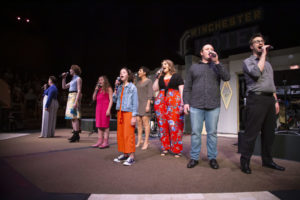 Last, but certainly not least, was Imagine All the People: Songs that Inspire. This night of music was full of songs that empowered and inspired, with hits both old and new. It featured songs like "What A Wonderful World" by Louis Armstrong, "Born This Way" by Lady Gaga, "I Will Survive" by Gloria Gaynor, and of course, "Imagine" by John Lennon. Director Morgan Foster, in his Circle debut, assembled a cast and concert that left audiences feeling uplifted – so much that we had to add an additional show due to high demand! Beyond the stage, they also brought their concert to WYCE's GR Live (twice!) and a special fundraiser at Speak EZ Lounge for the Grand Rapids Pride Center.
We hope everyone that attended, whether you went to one or all four, enjoyed every moment! Thank you for celebrating 10 seasons of live music with us. Don't forget to come on out for the 2020 Summer Concert Series! You can learn all about our exciting lineup at https://circletheatre.org/summerconcertseries/.