No Circle season would be complete without our Magic Circle production! Magic Circle is a season tradition, bringing a story that is fun and family-friendly to our stage. 2019 was no exception, with Rapunzel pleasing sold-out audiences of all ages.
Our June production of Rapunzel was a spin on the classic fairytale, an adaption by Karen Boettcher-Tate with tons of crazy twists and memorable characters. Audiences followed the Shwartzbuckle family, Witch Izwitch and her gaggle of Glumpwarts, and other kooky characters on their zany journey to rescue Rapunzel.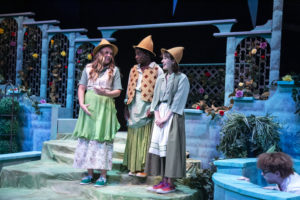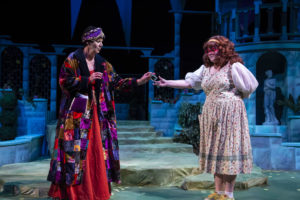 This cast was full of talent, including Annie Egan as Rapunzel in her Circle Theatre debut. We had cast members of all ages, from youth to adult, with more than 10 making their Circle debut! Beyond the cast, it was our honor to bring on Emily Wetzel as a first-time Circle director. 
However, the fun stretched beyond the stage! We continued our tradition of the Magic Circle Party. This party gave guests the opportunity to interact directly with their favorite characters from Rapunzel and was complete with crafts, games, story time, a parade to the show, and more. The event was generously catered by West Michigan Caterer and was certainly a magical night.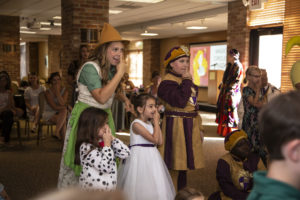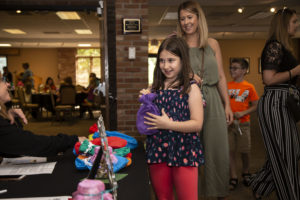 Another essential piece to Magic Circle is the annual Youth Environmental Contest. In partnership with the Wege Foundation, each summer we hold a contest for students ages 5-14 that encourages them to raise awareness about our environment and living "green." This year's theme was Growing the Enchanted Garden. This year's winners, Amina Povlakic, Joshua Beckford, and Lorelei Lake, walked away with VIP tickets and a community prize package featuring admission to a variety of local entertainment hot spots for them and their family.
We are so excited to continue bringing family audiences to the theatre next summer with the Magic Circle production of Goldilocks and the Three Pigs! To find out more about Magic Circle and the 2020 Magic Circle events, head to circletheatre.org/magiccircle.