How the heck do they do it?
Actors, singers, musicians, and dancers – all bringing a form of quintessence to the stage. Once that stage is taken, a truly extraordinary experience begins to unfold. Theatre brings people together; it is a tradition, an escape from reality, and an opportunity to demonstrate the love, strength, and determination we all need and strive for.
But…long before any of the actors, singers, musicians, and dancers take the stage, they undergo the process of auditions. That is where the fun really begins!
This past weekend I was given the opportunity to be a bystander during Circle Theatre's Main Stage and Magic Circle auditions. As someone who is an outsider, someone who does not hold one of those amazing titles above, but simply a photographer along for the ride, the weekend was an extraordinary experience that needs to be shared!
When you walk in the doors of the Art & Music Center at Aquinas College, there is a sense of home and welcoming. You are greeted warmly at the front desk by volunteers and staff members and directed to the room where your audition will take place. While you wait to be called you rehearse…and then you rehearse more…and then you find a partner or a group to rehearse with, right up to the moment you are called into the room to give everything you have.
One of the first things I heard after taking my initial stroll through the rooms was Lynne Brown Tepper, the Executive and Artistic Director, prepping a group who were about to head into the auditorium for their main stage audition. One thing that struck me was her enthusiasm for each of these individuals and the pep talk she gave.
If for some reason you don't get a callback or do not get cast, it is not a reflection of your talent, I like to use the apples and oranges analogy. If the director is looking for an apple, you could be the most perfect orange in the world and if you aren't cast it doesn't mean that you're not a perfect orange, it just means the director wants an apple … please keep that in mind and keep coming back to auditions for other shows – especially if this is your passion.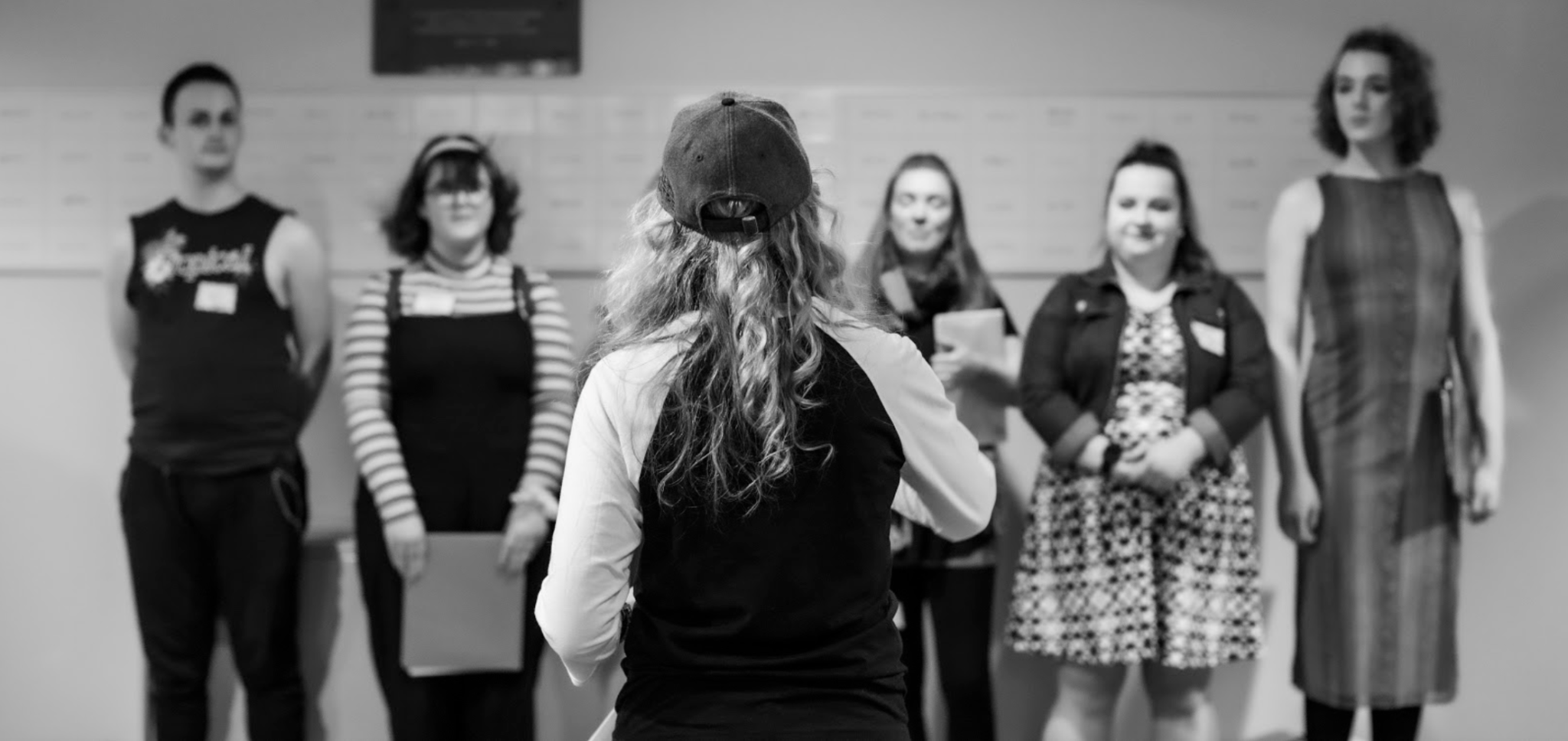 Lynne's ability to empathize with this group prior to what could be a very nerve-wracking experience lifted some weight off their shoulders and allowed them to breathe, knowing that their talent matters, that they matter, and their passion matters – whether they get cast or not.
After this instructional pep talk, I followed the group into the auditorium to see how the process worked. Each individual sat down and one after another was called onto the stage to state their name, the show they were auditioning for, and the song they were performing. Before beginning, they shared their sheet music with the pianist, Glen, to go over their music and make sure it was played the way they rehearsed it.
The auditioner gets 16 bars of a prepared song, with the potential to be cut off early if the directors have seen what they need to see. I can see why this can be so nerve-wracking, however, with that being said, the amount of talent to walk across the stage was absolutely incredible. Each person brought their own emotion and soul in order to give that WOW factor in hopes of landing a role that in their heart they felt they were perfect for.
Imagine this: The sound of footsteps as a performer walks across the stage in a silent room, the lights dim… and a voice appears, a voice that starts so low you can hear a pin drop, but as the voice begins to grow your heart begins to flutter… suddenly the voice gets louder and louder and your body starts to get the chills and just then, the performer hits the highest note in the song and your sensory superpower is through the roof! In that moment your sense of being is altered, you are taken far away from your personal reality and dropped into what can only be described as a moment of true happiness.
That was my weekend at Circle.
I think the most epic part of the entire weekend was at the very end of callbacks for Hair. Callbacks are so exciting because it is a second chance to give all that you have to the directors. They are more intimate and you get an opportunity to see exactly what the director wants and is looking for.
At the callbacks for Hair, Jolene Frankey, the director and choreographer, had everyone circle around the piano and did something you wouldn't normally do or see everyday – she invited all of the performers to riff one of the songs.
For those of you who have no idea what a riff is, it can be very intimidating for the performer. It is basically using your intuition and musical judgement to improv a repeated musical phrase. Riffing is a great opportunity for directors to see the talent of potential cast members because it gives them a chance to see how each person sings, how much character they can bring to the table, and who works well with one another.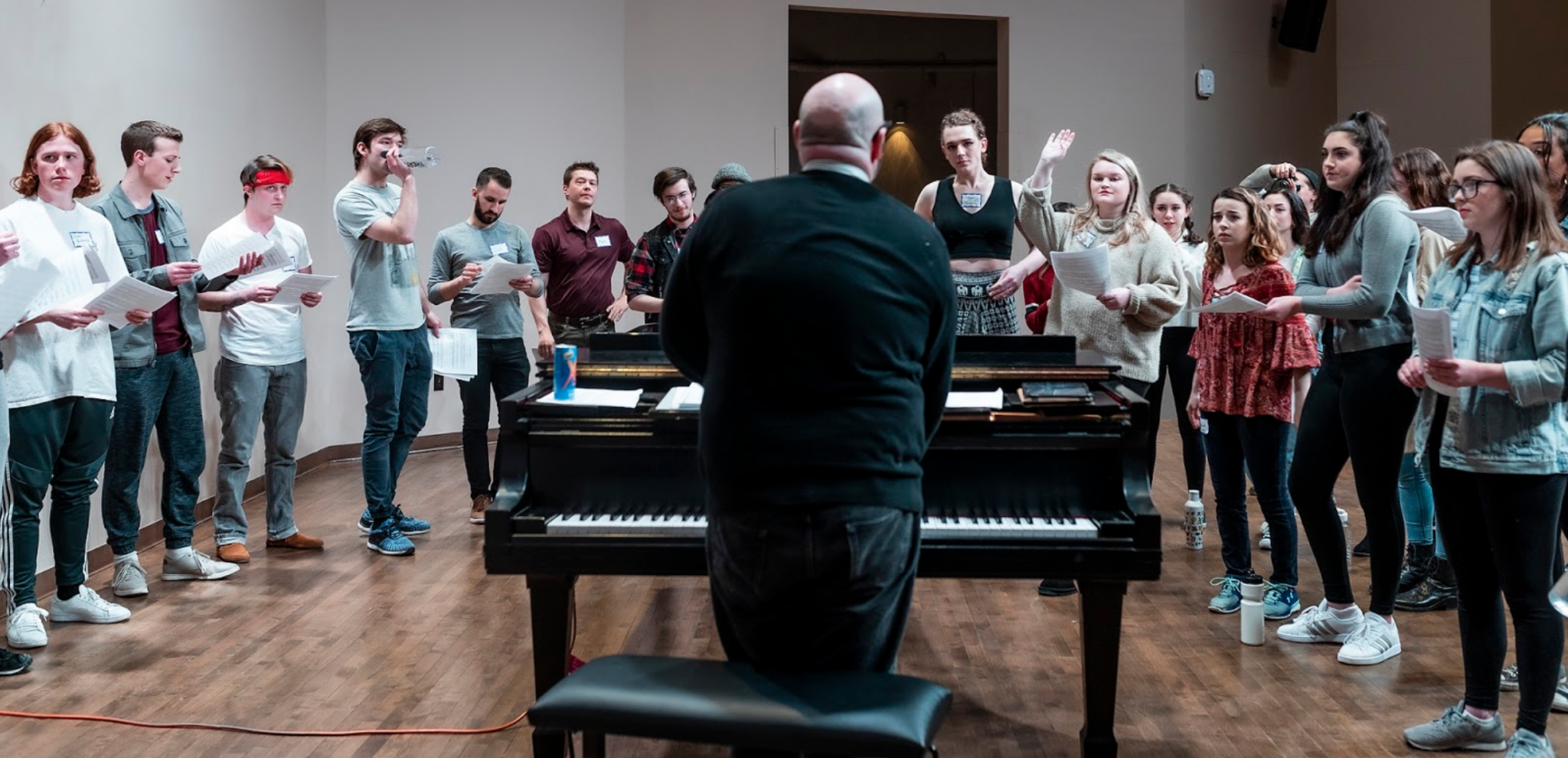 Jolene divided the performers into groups based on voice type and had 4-5 individuals step in and riff the song, "Let the Sunshine In." When everyone had taken their turn the final group that went continued the song and everyone in the room, including those not auditioning, lit up and completed the riff and the song in such harmony and with such excitement words couldn't even describe the energy in the room.
Eyes closed, foot tapping, moving to the rhythm of the beat – this is the essence of theatre.
What I have learned from this experience is that it doesn't matter how many times you have practiced or how long you have been in the industry, everyone forgets the words or the moves and gets nervous, but in the end it's how you handle yourself once it's done and how you pick yourself back up and continue on that matters. 
Auditions can be nerve-wracking and they can be an inspiration. It is difficult in a room with just you and the directors, but it is even scarier when you are in front of a group of your peers auditioning. 
Circle Theatre and the environment that they have created allow you to be a part of a safe space with a large sense of community so that no matter what happens you always have a friend sitting nearby cheering you on.