How did you first get involved with Circle?
I first got involved with Circle back in high school when I was cast in my first theatrical production ever at West Catholic – Once Upon a Mattress. It was my first theatrical experience and a musical to boot! I was cast as a knight along with all the other guys and I remember all the "ladies in waiting" told me that I was the best knight out there. I remember thinking that was funny that I was the "best boy" on the stage. That was my first experience ever at the Performing Arts Center at Aquinas College, which is also Circle's home, and also my first experience with spirit gum for my fake beard. Ha! All of our productions were at the PAC and I remember the experience was magical. (No pun intended.) Being backstage, getting makeup and costumes on, and being in the spotlight dancing and singing was a memory I will never forget. I even remember my first and only line from the show: "Lower the drawbridge!"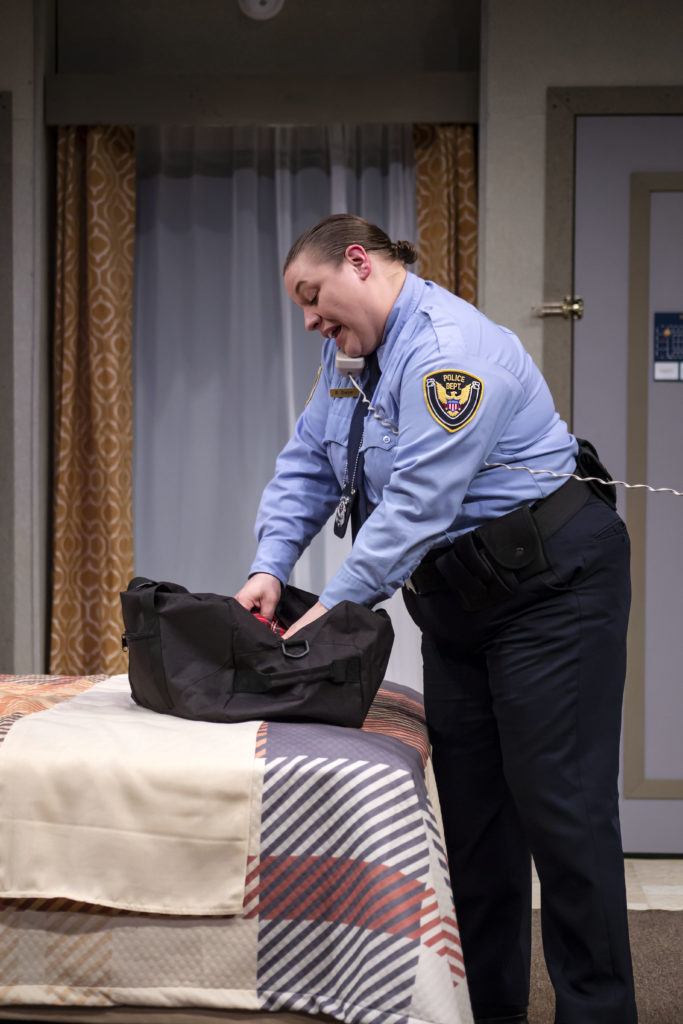 What's been your favorite experience on the Circle stage so far?
It's really hard to list a favorite experience on the Circle stage because I have so many wonderful memories and experiences to look back on. The Performing Arts Center at Aquinas is the only stage I've ever acted on, so for me it's my "home" theatre. Some of my favorite experiences and memories include: playing various characters in Forbidden Broadway (Aquinas), being Edgar Allen Poe's mother in Nevermore (Aquinas), getting to do the thriller in Don't Dress for Dinner (Circle – Grand Award nomination for Best Lead Actress in a Play), and even though it was my latest show, playing the hilarious cop Billie Dwyer in Circle's Unneccessary Farce. I mean, how can you complain about eating donuts every single night and getting people to laugh at you? There's really nothing better.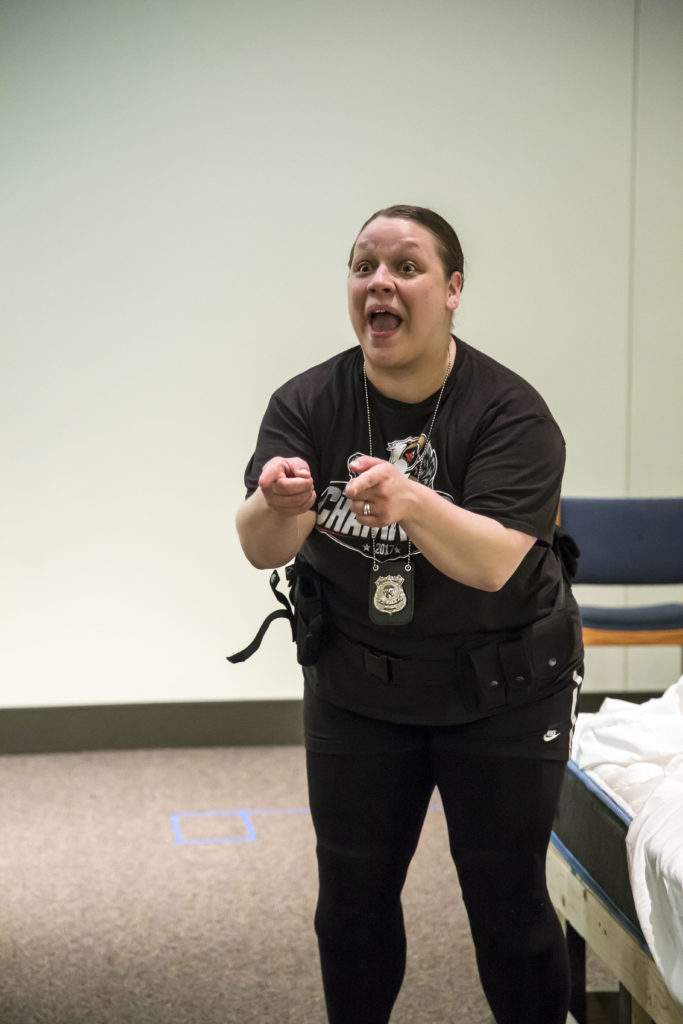 How about as an audience member?
I have so many fond memories of Circle shows as an audience member. Some of my favorites include Altar Boyz, Rent, Little Shop of Horrors, Noises Off, and Leading Ladies.
What is your life like outside the theatre?
I work at Spectrum Health as a Training and Development Specialist and am married to my best friend since fourth grade, Patti. She and I got married officially in July of 2017, but we'll be together sixteen years this December. We love traveling, going to theatre and concerts, having game nights with our friends, attending baseball or hockey games, and movies. We celebrated our two year anniversary in New York and we are trying to plan our next big trip soon. We have one cat who is 18 years old and her name is Jazmin. Personally, I love to read, write, sing, dance, act (of course!), and cook. Random fact – I've been on the Keto diet since August 12th and have lost over 30 lbs.
Your character in Unnecessary Farce was hilarious, definitely a highlight of the season. How did you develop and get in to your role?
Billie is one of my favorite characters I've ever played to date. The only other character I loved just as much, only differently, was when I got to play Matt Damon in Matt and Ben as part of my Aquinas senior project. In answer to your question, I think I "found" Billie early on in the process. This actually occurred when I first read the script. I could vividly see her in my mind – her physicality and voice and I knew who she was just by reading. This made character development much easier. I didn't have to do a ton of research for her because so much of her was already within me. I think Billie was so fun and unique to play because I feel like I am so much of Billie in real life. We both have a lot of passion for what we do and we give it our all, even if we're not great at something. We both wear our emotions on our sleeves and constantly try and impress others. We are both charismatic and candid, and we both value friendship and family above all else. Oh, and we both DEFINITELY love donuts!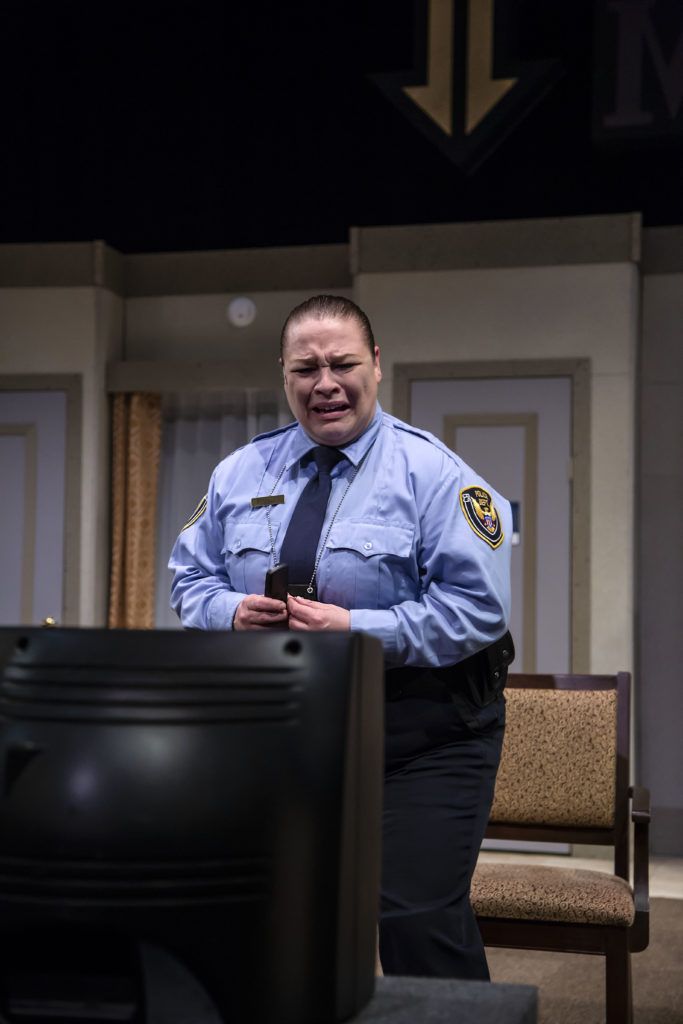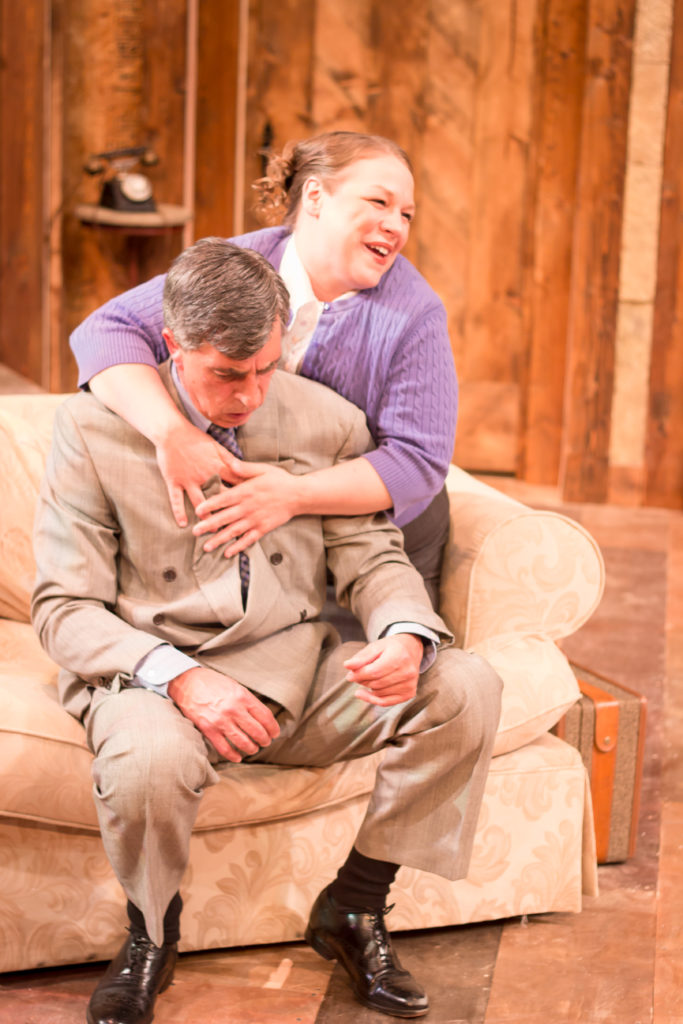 Do you prefer performing in comedic pieces like Unnecessary Farce or more serious shows?
I absolutely love performing in comedic pieces! One of my favorite things in the world is to laugh and make other people laugh. I think that there needs to be more laughter in the world. If I can make someone laugh, I honestly feel like I've really done something right and have made their day just a little bit better, even if only temporarily. Comedy is something I love very much, so I would say yes, I do prefer comedic roles. I think comedy lends itself to allow the actor to explore more daring, adventurous tactics and ideas to try during the rehearsal process. I've been in a few dramatic pieces and I think that they offer a different kind of challenge. I would say that dramas are much more mentally challenging while comedies are more physically challenging. I had to be extremely physical as Billie in Unnecessary Farce – rolling around on the beds, being tied up and writhing on the floor, and simply running back and forth on the stage between doors. Regardless of the piece I'm working on, I like to be challenged and one of the biggest influences in this is also the director. For 3 of my Circle shows, I worked with director Tom Kaechele. I would perform for Tom in any production at any time. He is phenomenally talented and he knows how to get the best out of you.
In your opinion, what makes Circle special?
To me, Circle is special because it's really the only stage I've ever performed on. I have all of my high school, college, and post-collegiate theatrical memories here. It's a place I know I can walk into and feel at home. The people have a big part in that, as well. I've met some of my dearest friends at Circle and have worked with some of the best talent in town. That is something to cherish.
What advice do you have for someone who would like to audition for Circle, but never has before?
READ THE SCRIPT! So many first-timers make the mistake of not reading the piece before auditioning. How can you prepare for a role or show the directors and production staff that you have what it takes if you don't know the story or characters? On a more technical level, I would say just have the guts and audition even if you're nervous. Auditioning is one of the most exhilarating things an actor can do. It reminds you how human you are when you can feel the adrenaline. The audition process is very seamless and fun, as well. It's low key and everyone is very friendly and welcoming, especially if you are new. And if you have a chance to take advantage of some of the audition prep workshops, participate in those as well.
What is one word you would use to describe Circle Theatre?
One word I would use to describe Circle is CONNECTED! I say connected because it's a place that brings the community together to enjoy exceptional live theatre and it brings groups of individuals together to play and make art together. I think Circle does a great job representing itself in the community and inviting others to join their Circle family. Circle is also very inclusive, memorable, and magical just to name a few more words.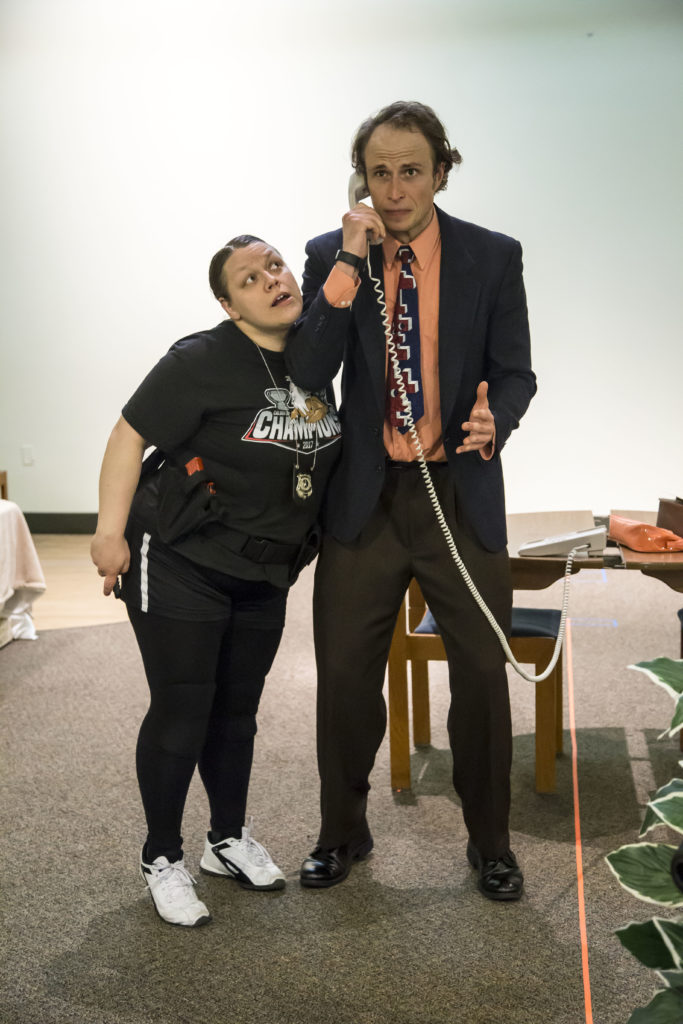 Thank you to Liene for taking the time to answer our questions so enthusiastically! We are so lucky to have performers like her who volunteer their time to enrich our community and bring hilarity to the stage. Follow us on social media for future blog posts and Performer Spotlight pieces! Have a favorite performer you'd like to see interviewed? Let us know! Email marketing@circletheatre.org with the performer you want to hear from.